Agents, why would you choose RE/MAX Realty Advantage?
Two Things:
1- You want your clients to recommend you to everyone they know.
2- You want to make more money.
Are you ready to learn from the best in the business?
Our award-winning Broker, Molly Wahrheit, has been among the top 10 producing agents in San Antonio for years and she is ready to share her real estate secrets with YOU. Molly takes a whole new approach to building a real estate business.
She shares her strategy, knowledge and experience freely with at least two development sessions per week and she will help you create a business strategy and will consult with you on a quarterly basis, keeping things on track. You'll learn how to become a powerful Agent, blowing your competition out of the water, while surpassing client expectations. Her Open Door Policy ensures that you have access to the coaching you need, overcoming any obstacles you may encounter.
Because here's the thing- Training is WORTHLESS if it's not sandwiched between consultation on the front-end and action with coaching and accountability on the back-end.
Ready to finally make the money in real estate you've always dreamed of? Call 210-495-5252 and ask for Molly.
We're building a team of like-minded Agents who put the customer first and who want to take their real estate activities to the next level.
Some brokerages like to have lots of Agents that produce a little - a Brokerage-Centric model
We would rather have fewer Agents that produce A LOT - an Agent-Centric model.
Read what some of our Agents have to say about us: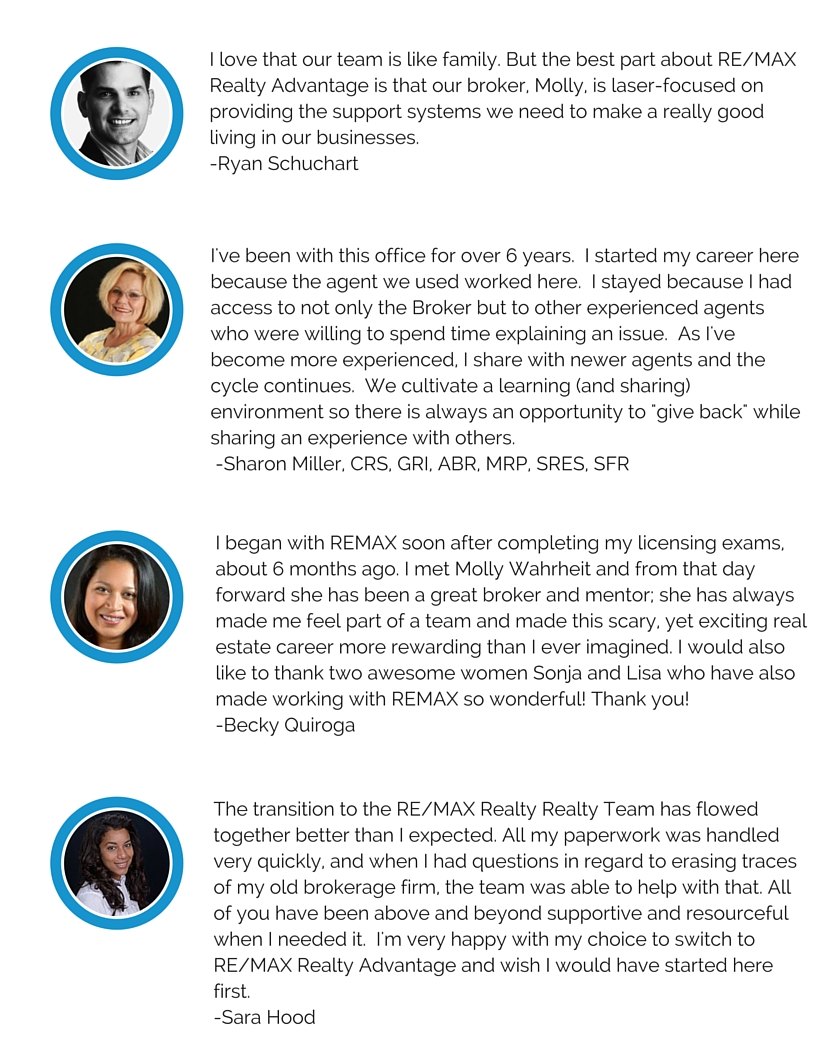 Click here to learn about what the RE/MAX brand can do for YOU.
National Advertising Campaign:
The only franchise with a national advertising campaign, RE/MAX is the most consumer-recognized real estate company in the US and worldwide.
It's one of the reasons that no company does more business that RE/MAX.

Ready to pursue your Real Estate License?
Click the link below for details.
Testimonials
" I was living in Florida but wanted to move back to San Antonio and a friend recommended Kim. I was focused on existing homes but Kim included a few new builds and that's how I found my perfect home. I had to return to Florida while they finished construction and the builders agent never answered or returned any of my calls. I contacted Kim and thanks to her I was able to get my questions/concerns answered and I also received thousands of dollars of upgrades from the builder for the fact that their agent was unresponsive to my calls. She made sure that my requirements were taken into account by the builder who could easily ignore me but not Kim. I am enjoying my new home thanks to Kim. Even after the sale was completed, Kim has continued to work in my favor when I am dealing with the builder "
- Matt Davis
" Kim works really hard even with really hard to work with agents/Banks! 5 Stars. "
- Michelle Salesky
" Kim Mauldin is a REALTOR® that stood out from the rest because, when I was looking and saying the price range I wanted to stay in, she was the only one that kept looking for me even if it wasn't a high amount. She didn't try to make us go to the north side where everyone else would just look. She helped us find one in the area we wanted to stay in and then fought for us to get the house that we wanted. She worked morning noon and night for us without, complaint. She was awesome getting us our house and we even consider her a friend now. She will always be our REALTOR®." "
- C. Ovalle
" Kim is the sharpest realtor in town! Definitely recommend her! "
- Gonz Trevino
" Kim was a true professional, and I am looking forward to working with her in the future. I would recommend her to friends and close relatives. This is my first home purchase and Kim made the entire process seamless. She was worked had patience while me and my wife carefully selected the perfect home. OK will pursue her for my next home purchase. "
- Charmaigne T.
Previous
Next